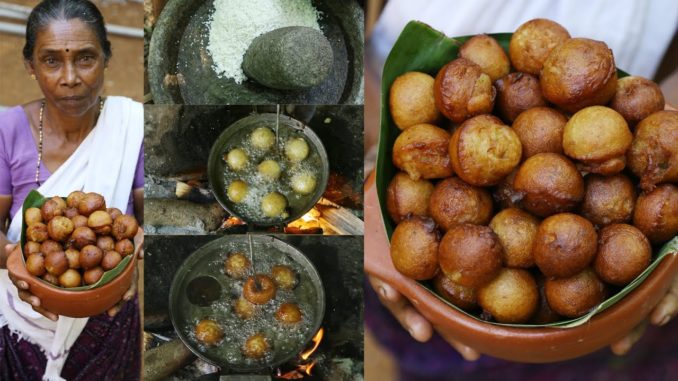 Ingredients  
Raw Rice : 2 cups
Ripe Small Bananas : 3 nos
Jaggery  : 1 cup
Black Sesame Seeds /Ellu : 1/4 tsp
Coconut bits /Thenga kothu : 1/2 cup or as needed
Cardamom : 3-4 pods
Salt : one pinch
Coconut Oil for fry
Method
 Soak the raw rice in water for about 3-4 hours,
 Then we melt jaggery with 1/4 cup of hot water and make a thick syrup out of
it, Strain to take out any impurities and cool the syrup.
 Drain the water from the rice and grind the rice to a smooth paste/ batter
using the jaggery solution.
 Add the banana into rice smooth paste and add them along with the seeds
from the cardamom pods and grind everything together  to a smooth nice
batter.
 Fry the coconut bits in oil till it become light brown in colour
 Now add the fried coconut bits and sesame seeds to the batter and mix well.
 Keep this batter for 1-2 hour
 Then we take pan,add oil in it
 When hot simmer the flame and pour half spoon of batter into each rounds.
 Now increase the fire to medium and allow the appams to cook, pour oil in it
  Once cooked, the sides will detach from the pan and will start to rotate in the
oil,
 If not with the help of a fork turn the unniyappam to cook on the other side to
a golden colour.
 Once the Unniyappam are browned both on the bottoms and tops, remove
them from the pan
 Allow them to drain well on paper towels and repeat the same process to
make the rest of the appams.
 Cool them to room temperature. Serve and Enjoy!