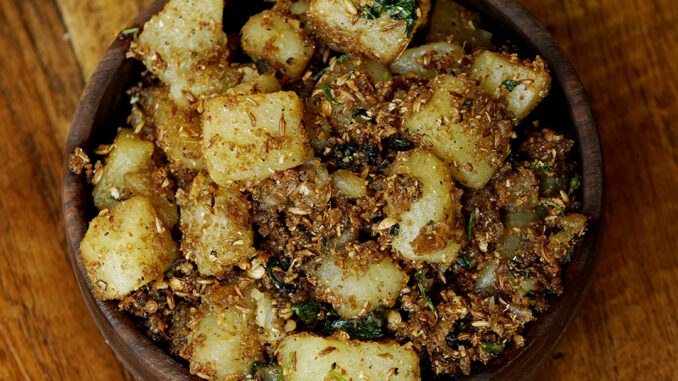 Ingredients
Potato – 3 nos
Coriander seed – 1 tbsp
Cumin seed – 1 ½ tbsp.
Pepper powder- 1 tbsp
Coriander leaf – small amount
Salt to taste
Coconut oil – 2 tbsp
Method
 Take a pan and when it is hot add coriander and cumin seed and heat it well and then set a
side to cool
 Again we crush the sauted coriander and cumin seed into fine powder and keep a side.
 Then we boil the potato well and peel and cut into small pieces.
 Heat oil in a pan add cumin seed ,let them sizzle.
 Add cooked potato and salt ,mix it well
 Now we add crushed cumin and coriander powder ,combine well.
 Then we add 1 tbsp of pepper powder and mix well .
 Finally we add cleaned and chopped coriander leaf in to the pan and mix it well .
Turn off the flame
 Serve the easy jeera aloo stir fry with meals
 Enjoy the variety potato fry taste ..