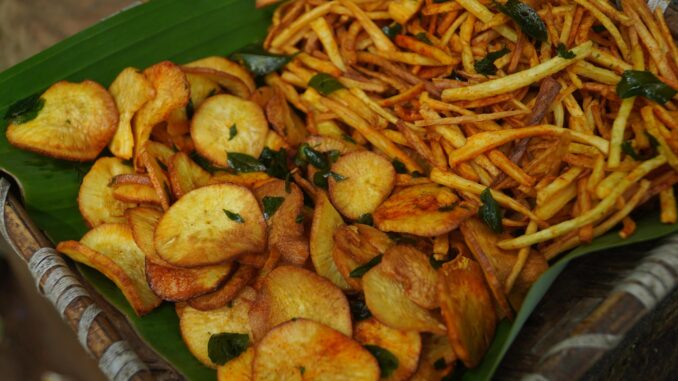 Ingredients
Tapioca – 1 kg
Turmeric powder – 1 tsp
Red chilli powder -1 or 2 tsp
Salt – 1 or 2 tsp
Method
Firstly peel off the skin of tapioca and wash it well.
Then cut it into round slices , and length wise set aside.
Heat oil in a pan
Then take a bowl add salt,turmeric powder and water, mix them well
Gently place a batch of the sliced tapioca pieces into the heated oil .
Then pour in a small amount of turmeric water and mix well
Deep fry till golden brown, stirring for even browning.
Strain them off and place them on a plate.
Sprinkle some red chilli powder ,mix them well.
Mix it well, set aside
This frying process is repeated in lengthwise tapioca chips.
Finally add some curry leaves to the hot oil .
Fry and drain them thoroughly.
Finally sprinkle some fried curry leaves and mix them well.
Serve the tasty tapioca chips with coffee or tea.