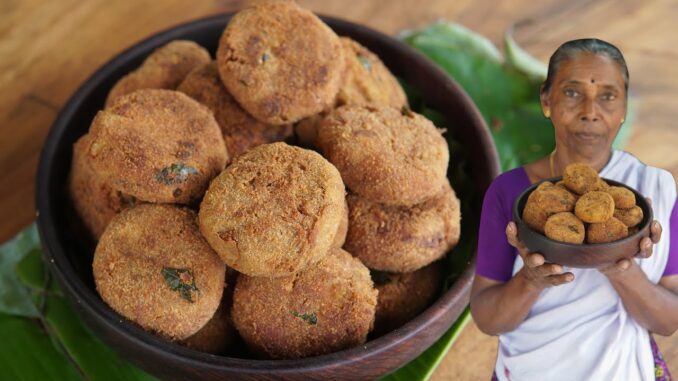 Ingredients
Yam – 1/2 kg
Onion – 2 nos
Ginger – 1 nos
Garlic – 8 to 9 nos
Egg – 2 nos
Green chilli – 3 to 4 nos
Curry leaves – 3 or 4 sprigs.
Turmeric powder – 1/2 tbsp
Red chilli powder – 1 tbsp
Coriander powder – 1 tbsp
Pepper powder – 1 tbsp
Garam masala – 1/2 tbsp
Rusk powder – 1/2 cup
Salt – 1 or 2 tsp
Oil – 1/2 ltr
Method
Firstly, we have to cut the yam and set it aside.
Then peel the yam and set it aside.
Then cut it into small cubes and set it aside.
Wash the yam cubes two to three times.
Drain thoroughly and set aside.
Then take a pan. Add cleaned yam cubes, a sufficient amount of water, and salt.
Then place the yam mix pan on fire.
Cover and cook them well.
Remove the lid and check whether the yam is well cooked or not.
Once it is well cooked, remove it from the fire and set it aside.
Mash the cooked yam and set it aside.
In a pan, heat the oil, then add the chopped garlic and ginger.
Add a few curry leaves and sauté them well.
Now add the green chilies that have been finely chopped and thoroughly saute them.
Add the final chopped onion and saute them well.
Sprinkle with salt and saute the onion until it is translucent.
Again, add a few curry leaves and saute them well.
Add some spices like turmeric powder, red chilli powder and coriander powder.
Again, add pepper powder and garam masala.
Saute them well.
Then add the mashed yams and combine them well.
Then cook for a few minutes.
Take the pan off the heat and set it aside.
Take a bowl and break two eggs. beat them well with a spatula.
Then we take a small mixture of yam mix and prepare cutlets of the desired size and shape.
Then the cutlets are in shape dip into egg mix .
Then coated with rusk powder,set aside.
Heat oil in a pan and place the yam cutlet.
Then fry them till they become golden brown.
Drain and place them on a bowl and set aside.
Serve and enjoy the taste of yam cutlets.