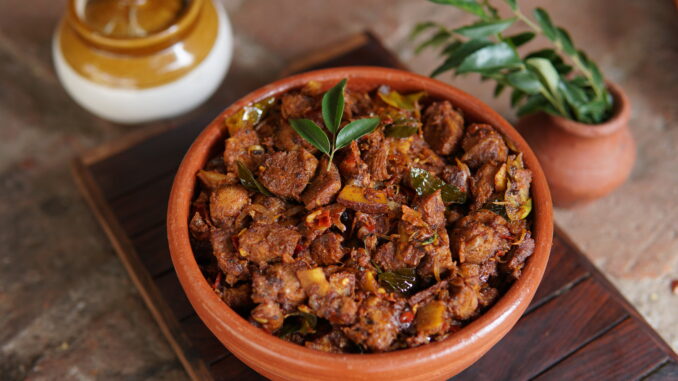 Ingredients
Soya chunks – 2 cup
Onion – 3 nos
Shallots – 14 to 15 nos
Ginger – 1
Garlic – 9 to 10 nos
Curry leaves – 3 sprigs
Tomatoes – 2 nos
Lemon – ½ piece
Coriander leaves – one hand full
Coconut tidbits-1/2 cup
Black pepper powder – 1 tbsp
Coriander powder – 2 tbsp
Red chilli powder – 2 tbsp
Garam masala -2 tbsp
Turmeric powder – 1 tbsp
Cinnamon – 1 nos
Cloves – 3 nos
Fennel seed – 1 tsp
Mace –jathipathri
Red chilli flakes-1 tsp
Salt – 1 or 2 tsp
Oil – 2 or 3 tbsp
Method
Heat water in a pan add some salt and soya chunks ,boil them well, drain hot water.
Then wash the soya chunks with normal water ,squeeze excess water and set aside.
Crush shallots and transfer into a bowl.
Again crush ginger and garlic ,set aside.
Take a bowl add semi cooked soya chunks ,salt and turmeric powder.
Then add some ginger garlic pasate,coriander powder,red chilli powder,garam masala and coconut
oil.
Mix them well and marinated for half an hour.
Heat small amount of oil add soya chunks and stir for 5 to 6 minutes, transfer to a medium size bowl
and set aside.
Then pour sufficient amount of oil in the same pan add fennel seed,cinnamon,cloves and mace –
jathipathri saute them well.
Add coconut tidbites and fry for 4 to 5 minutes.
Add crush shallots,chopped onion,green chilli,ginger garlic paste and curry leaves, saute until onion
and shallots turns light goldeb brown.
Add some spice powders like red chilli powder,garam masala,coriander powder,black pepper
powder, and red chilli flakes,saute until their raw smell is gone.
Then add chopped tomatoes,saute well until tomatoes gets mashed up.
Add soya chunks ,squeezed half lemon juice ,sprinkle some coriander leaves and salt ,mix them well.
Finally add few curry leaves and mix them well.
Remove from fire and set aside.
Serve the tasty soya chunks roast with meals.