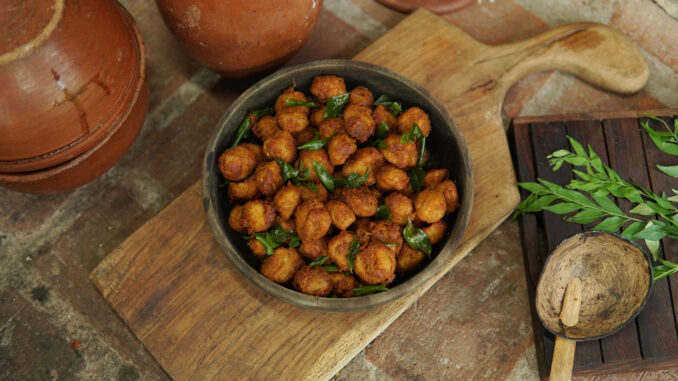 Ingredients
Soya chunks – 1/2kg
Ginger- 1mediumpieces
Garlic- 5 or6nos
Riceflour-1/2 cup
Corn flour – 1/2cup
Curryleaves-3or4sprigs
Lemon-1/2 slice
Red chilli powder – 1 tsp
Garam masala – 1/2tsp
Coriander powder -1/2tsp
Turmericpowder – ½ tsp
Cumin seed powder – ½ tsp
Pepper powder – 1tsp
Salt-1 or2 tsp
Oil- ½ ltr
Method
Take a large bowl add soya chunks and hot water ,soak for halfan hour.
Then drain and rewash the soya chunks with Clear water,then set aside.
Grind ginger and garlic into fine paste and keep aside.
Take a pan add soya chunks ,rice flour, corn flour,red chilli powder,garam masala,coriander
powder, turmeric powder, ginger garlic paste ,cumin powder,pepper powder and salt mix
themwell with clean hands.
Then sprinkle some water and combine them well.
Now squeeze some lemon juice and mix them well and marinated for one hour.
Heat oil in a heavy bottom pan add marinated soya chunks and fry them well.
Drain excess oil and keep aside.
Finally add some curry leaves on the hot oil and fried them well.
Then drain and add it into soya chunks fry , mix them well.
Serve and enjoy the simple and easy soya dry fry with meals.