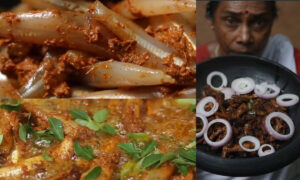 Squid – 1/2 kg.
Ginger – 1 pc.
Garlic – 1 no.
Pepper – 1 teaspoon.
Fennel – 1 teaspoon.
Dried chili – 5 nos.
Turmeric powder – 1/2 teaspoon.
Salt – as required.
Curry leaves.
Method
*Clean and cut squid in rings.
*Make a paste of ginger, garlic, fennel seed, pepper, turmeric powder, dry chilies, salt on a stone grinder.
*Heat oil in a pan, once oil is hot put the squid in for fry. Add curry leaves when squid is almost done. Remove from the flame.
ready.