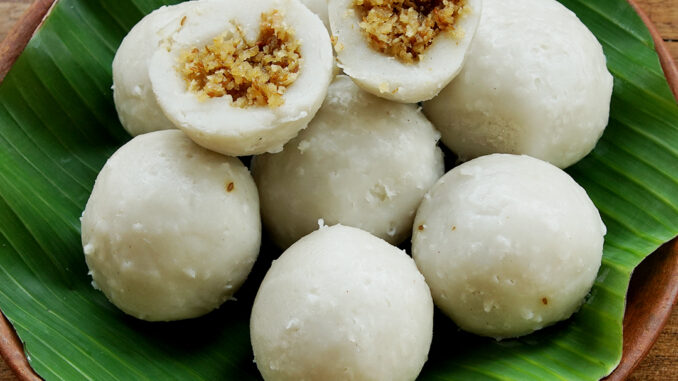 INGREDIENTS
Rice flour : 1 cup
Grated coconut : 1½ cup
Thick jaggery syrup : ½ cup
Cardamom powder : 1 tsp
Ghee : 1 tsp
Water : 1 cup
Salt : A pinch
METHOD 
Preferably sieve the flour to remove the larger sized lumps.
Add salt, ghee to water and boil it.
Pour this water into the rice powder and knead well to make smooth dough, without lumps.
Make big lemon sized balls out of this dough.
Heat a thick bottomed sauce pan, add a spoon of oil / ghee and mix the grated coconut and cardamom powder.
Roast it for some time and pour in the jaggery syrup.
Keep it over the flame till the moisture dries up with constant stirring.
Switch off the flame and transfer it to a bowl (optional)
Spread a little oil on your palm and take a ball of dough and flatten in slightly (make it into 3-5mm thick and 6-8cm diameter rolls).
Put a spoonful of the mixture (#7) in this and secure all the sides and roll lightly.
Prepare the entire balls using the rest of the dough.
Steam the kozhukkattas (in an idiyappam / idly maker) till done and serve them warm.