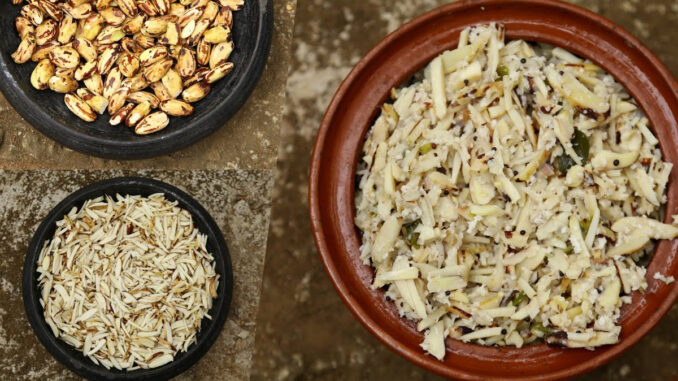 Ingredients
*Jackfruit seed – 1/2 kg.
*Bird's eye chili – 35 nos.
*Onion – 1 big.
*Garlic – 10 nos.
*Grated coconut – 1 cup.
*Coconut oil – 1 tablespoon.
*Mustard – 1 teaspoon.
*Curry leaves – 2 stems.
*Salt – as required.
*Water to cook.
Method
1 Clean and cut jackfruit seeds lengthwise.
2 Chop onions to small pieces, clean bird's eye chili, and slit it to two.
3 Heat oil in a pan, splutter mustard. Saute in onion, bird's eye chili, garlic.
4 Saute in curry leaves, jackfruit seed, grated coconut, and season with salt. Cook till jackfruit is soft.
5 Remove from the flame.
Jackfruit seed thoran is ready.