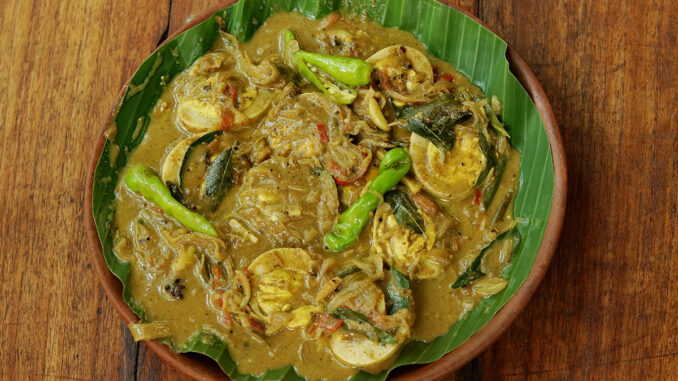 Ingredients
Egg-5 nos
Grated coconut -1 cup
Onion -3 nos
Green chilli-4 nos
Ginger – 1 medium
Garlic -6 or 7 petals
Tomato -2 nos
Curry leaves – 3 sprigs
Turmeric powder -1 tsp
Garam masala – 1 tbsp
Pepper powder- ½ tbsp.
Cloves – 2 nos
Cinnamon – 1 small
Bay leaves-1 nos
Salt –to taste
Oil – for cooking
Method
 First we hardly boil the egg .take a large pot add water ,egg and salt then boiled
it,ones the egg is ready remove from fire
 Drain water and cool completely under cold running water. De-shell the eggs and cut
into half, and keep a side
 Then we take a pan and add grater coconut and water mix well and drain the water
,then we get a thick coconut milk ,keep a side.
 Again we continued the process in same grated coconut ,then we get thin coconut
milk ,keep a side
 Heat oil in a pan add spices like cloves ,cinnamon, bay leaves etc saute well
 Then we add chopped onion and green chilli saute for some minutes
 Again we add chopped ginger and garlic mix and saute well
 Add some turmeric powder and salt mix well
 Now we add chopped tomatoes saute well till the tomatoes are well cooked
 Then we add curry powders like garam masala and pepper powder saute well
 Now we add thin coconut milk( 2 nd coconut milk ) mix and cook well for 5 to7
minutes
 Again we add thick coconut milk( 1 st coconut milk ) and mix well.
 Add boiled egg and sprinkle some pepper powder ,green chilli and curry leaves .
 Turn off the flame and keep a side
 Serve and enjoy the egg curry with appam or idiyappam.