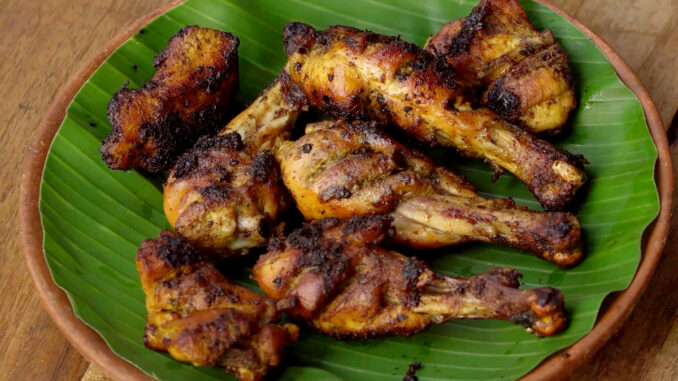 INGREDIENTS
Chicken -1 kg
Oil-4 or 5 tspn
Ginger-1 big size
Garlic-10 to 12 cloves
Garam masala paste- 1 tbsp
Turmeric-1 tbsp
Pearl onion-to 12 nos
Shallot -2 nos
Curry leaves -2 sprig
Salt –to taste
METHOD
First we clean and wash the chicken and cut it into small pieces.Then we crush the birds eye chilli ,garlic and ginger , keep it into a side.
Again we grind the garam masala into smooth paste (fennal seed,cardamom,cloves,cinnamon etc)
Then we take a bowl add chicken ,turmeric powder, salt, garam masala paste ,ginger garlic paste and birds eye chilli mix them well and keep it a side for half an hour.
Take a pan add oil,and 1 or 2 tsp of birds eye chilli into the oil
Add peal onion ,shallots ,curry leaves and little amount of salt mix them well
And, add marinade chicken and little amount of water in to the pan ,cover and cook for 10 to 15
minutes
Then switch off the flame and serve it .