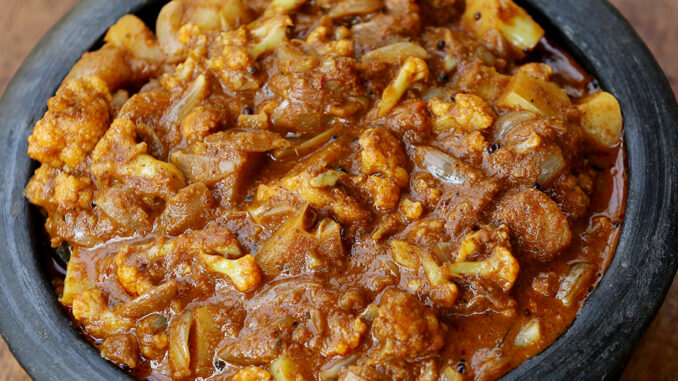 INGREDIENTS
Cauliflower 1 medium (about 3 cups)
Potato 1 big (about 1 cup)
Mustard 1/2 tsp
Bay Leaf 1
Cardamom 2
Clove 3
Onion 2 sliced
Green Chilli 3
Curry Leaf few
Ginger 1 inch piece
Garlic 4 pods
Coconut Milk 1.5 cups
Coriander leaves to garnish
Oil and salt to taste
Chilli Powder 1 tsp
Coriander Powder 2 tbsp
Cumin Powder 1 tbsp
Pepper Powder 1/2 tsp
Turmeric 1/2 tsp
Garam Masala 1 tsp
METHOD
Cut the cauliflower into florets and steam in a microwave for 5 minutes till it is partly cooked.
Boil the potato. Peal and cut into cubes.
Make a paste of ginger and garlic.
Miix all the ingredients under 'make a paste' into a paste by adding very little water.
Heat oil in a pan. Add mustard seeds. When it sputters, add the bay leaf, cardamom, clove and curry leaves.
When it sizzles, add the onions and ginger garlic paste. Saute till the onion starts to brown.
Add the masala paste, green chilli and salt. Mix and cook for minute or two.
Add the coconut milk and 1 cup of water (if required) along with the cooked cauliflower and potatoes.
Simmer till the gravy thickens. Garnish with coriander leaves and serve it.