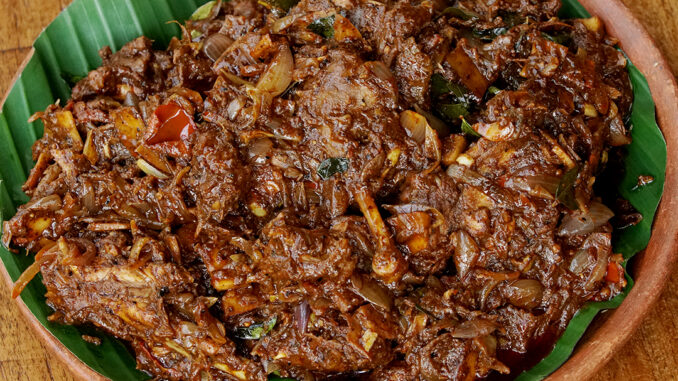 INGREDIENTS
Duck – 1 Kg, cut into medium pieces
Onion – 2 medium, sliced
Red Pearl Onions – 20 Nos, sliced
Garlic – 10-15 medium sized cloves, crushed
Ginger – 1 inch piece, crushed
Tomato – 1 medium sized, chopped
Kashmiri Red chilli Powder – 1 – 1 ½ Tablespoon
Coriander Powder – 1 ½ Tablespoon
Turmeric powder – ¾ Teaspoon
Black Pepper Powder – ½ – 1 Tablespoon, adjust according to your spice level
Thick Coconut Milk – ¾ – 1 cup
Mustard Seeds – 1 Teaspoon
Coconut oil – 3-4 Tablespoon
Salt to taste
Water as required
Garlic, crushed – 1 ½ Tablespoon
Ginger, crushed – 1 Tablespoon
Salt – 1 Teaspoon
Green Cardamom – 5-6 Nos
Cloves – 6-8 Nos
Cinnamon – 1 inch piece
Star Anise – 1 Nos
Fennel Seeds – 1 ½ Teaspoon
Mace – 2 medium sized
Black Pepper – 1 Tablespoon
Bay Leaf – 1 Nos
METHOD 
Clean and wash the duck pieces, drain the water completely and set aside.
Dry roast the whole spices on low-medium heat until you get a nice roasted aroma. Remove from heat and let it cool completely.
Then grind to a fine powder along with kashmiri cilli powder, coriander powder, turmeric powder and set aside.
In a large bowl, add the duck pieces, ingredients mentioned in 'For Marination' and half of the prepared masala powder.
Mix well, cover and refrigerate overnight or at-least 4-5 hours.
Before 30 minutes of cooking, take out the marinated duck from the refrigerator and keep it aside.
Then,
Heat coconut oil in a heavy bottomed wide pan.
Add in the marinated duck pieces as 2-3 batches and fry until brown in color on medium heat.
Transfer to a bowl and set aside.
Splutter mustard seeds in the same oil.
Add in the sliced onions, red pearl onions, curry leaves and saute until the onions turn light brown in color.
Add in the chopped ginger, garlic and saute until the raw smell disappears.
Now add in the chopped tomato and saute until mashed well.
Then add in the remaining masala powder and saute for 2-3 minutes on medium heat.
Add in the fried duck pieces and mix well.
Then add in the coconut milk, approx: 2 cups of water, salt and mix well.
Cover and cook until the duck pieces are cooked well on medium heat. Stir occasionally. Add more water, if required.
Once the duck is cooked well, open the pan and cook until the gravy is nicely thick.
Then add in the black pepper powder, curry leaves and roast it well. Check for salt.
Cover the pan and remove from heat, serve on the next day or at-least after 2-3 hours.