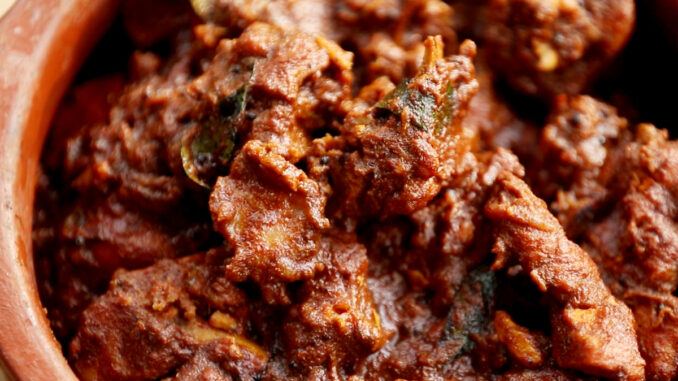 Ingredients
Chicken -2 kg
Chilly powder – 10 teaspoon
Coriander powder – 8 teaspoon
Turmeric powder – half teaspoon
Pepper powder – 1 teaspoon
Fennel seeds – half teaspoon
Coconut -1
Green chilly – 7
Ginger -2
Garlic -2
Savala – 5 teaspoon
Salt
Curry leaves
Tomato -2
Oil
Mustard seeds
Cinnamon stick
Star anise
Cloves
Pepper
Cardamom
Method
 roast chilly powder and coriander powder
 mix the roasted coriander powder, chilly powder ( keep aside half of the powder for later use) and turmeric powder paste to the washed chicken. Keep this aside.
 chop savala, ginger, garlic and green chilly.
Place a cooking pan in the stove and pour oil to it.when the oil is boiled add mustard to it. Add the chopped savala to this and stir it well. Add fennel seeds and curry leaves with it. Then add tomato and stir it again. Now add chicken to this. Add second milk ( coconut milk) to this to cook the chicken. Close the lid.
 grind the garam masala mix, that is the Cinnamon stick, Star anise, Cloves, Pepper and Cardamom. Add this mixture to the chicken. Add the rest of the roasted chilly and coriander powder to this and mix them well. Pour the rest of the second milk to this. Add some pepper powder to this and close the lid to cook them.
 add the first milk to the curry when it gets thick and turn of the stove. Add curry leaves to this.
Delicious chicken coconut milk curry is ready.