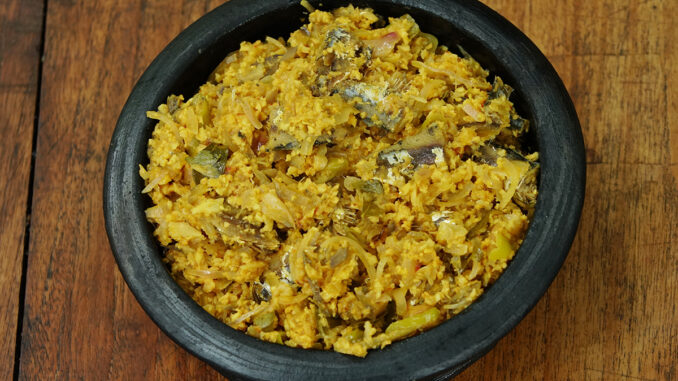 Ingredients
Dry fish -1/2 kg
Sliced mango-1 mango
Shallots-5 nos
Onion – 1nos
Garlics- 6 flakes
Curry leaves-3 or 4 sprigs
Dry red chilli-4 or 5 nos
Grated coconut-1 cup
Turmericpowder-1 tsp
Fenugreek powder – 1 tsp
Coconut oil- 2 tbsp
Salt – to taste
Method
First we have to clean and cut into pieces ,and set a side.
Then we grind grated coconut, dry red chilli, turmeric powder, shallots ,garlic and curry leaves , set a
side.
Then we take a mud pot add dry fish ,chopped onion, curry leaves, grinded coconut paste and
fenugreek powder
Pour some coconut oil in to the pot and mix well
Cover and cook in medium flame for 10to 12 minutes.
Remove from fire and set a side.
Serve and enjoy kerala dry fish and mango recipe with rice.