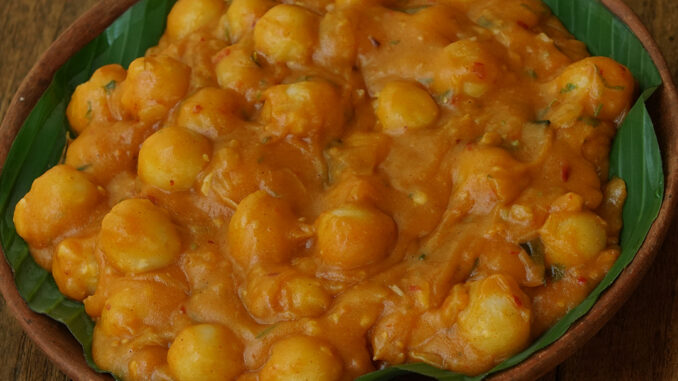 INGREDIENTS
Rice Flour – 1 cup
Oil – 1 tsp
Water – 1 1/2 cups
Salt – As needed
Oil – 2 to 3 tbsp
Chilli Powder – 1/2 to 1 tbsp
Turmeric Powder – 1/4 tbsp
Mustard Seeds – 1/4 tbsp
Urud Dal – 1 tbsp
Chana Dal – 1 tbsp
Coconut (Fresh) – 4 tbsp (Grated)
Garlic – as much as you need( Chopped)
Onion – 3 tbsp (Finely Chopped)
Asafoetida – 1/4 tbsp
Salt – As needed
Curry leaves – Handful
Dried red chilli – 4 nos
METHOD 
Boil water in a vessel by adding 1 tsp of oil and salt.
Add the rice flour into the boiling water, stir continuously and vigorously.
Over low flame, cook till it turns to a soft dough.
When the temperature cools down to what you can handle, prepare small rice balls.
Steam the rice balls in a steamer/idli steamer for 10 minutes or till they are cooked well.
In a heated pan, add the oil. Once the oil is hot, add mustard seeds.
When the mustard seeds start to pop, add dried red chilli, urud dal, chana dal and fry till they turn light brown.
Now add finely chopped onions, curry leaves and salt as needed.
Then add chopped garlic in it and mix well, Saute till onion turns translucent.
Then add chilli powder, turmeric powder, asafoetida and saute for 15 seconds or till fragrant.
Take 1 to 2 teaspoons of this fried masala, let it cool down and then grind it.
And add water in it Now add the prepared rice dumplings (step 1), grated coconut to the rest of the masala in the pan and mix well.
Add the ground mix into it, mix well and cook for a minute so that everything is combined well.
Now garlic Kozhukatta is ready to serve.