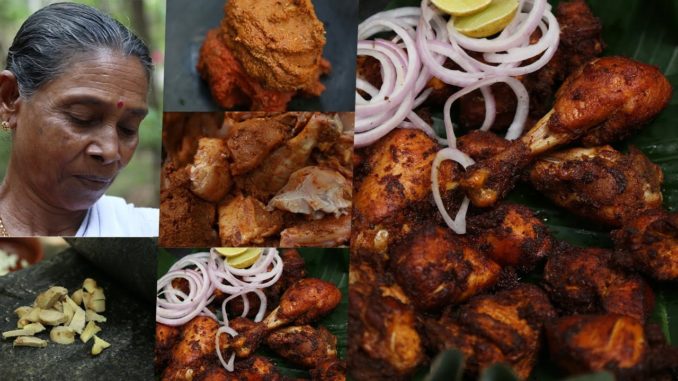 Ingredients:
Chicken :1 kg
Garlic : 7 or 8 petals
Ginger : 1 medium
Red Chilly : 6 or 7 nos
Coriander powder : 1 1/2 tbsp
Turmeric powder: 1 tsp
Gram Masala : 1 tsp
Black Pepper : 1 tbsp
Salt to taste
Method
► First we wash and clean the chicken pieces, and place the
chicken in a bowl.
► Make a paste of ginger ,garlic,black pepper and dry red chilli
,and transfer it into another bowl
► Then we again make a paste of gram masala(cinnamon,fennel
seed,cardamom,clove,star anise)and coriander powder,
turmeric powder and transfer into to the masala bowl
► In a blow, marinate the chicken pieces with all the above
masala ingredients and cover the bowl with a lid for a minimum
of 1 or 2 hours
► Heat oil in a pan at for frying chicken at medium heat; fry the
chicken pieces in 6-8 minutes and then turn it around and
continue frying for another 7-8 minutes or until the chicken is
evenly browned and its crispier on the outside .
► Remove from the fire and transfer it to a bowl.
► Serve hot as side dish with steamed rice, or with chappathy &
enjoy!