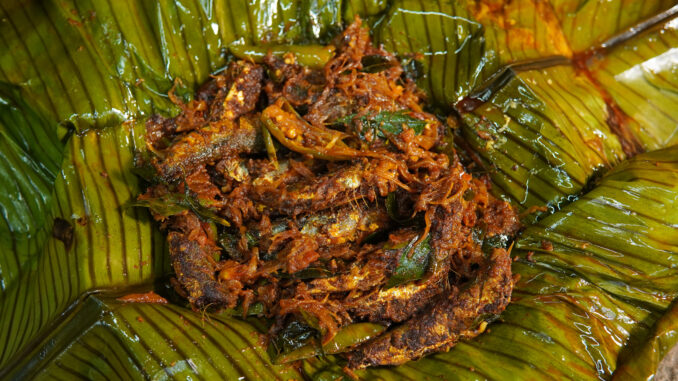 Ingredients.
Sardine fish – 1 kg
Onion – 3 nos
Tomatoes – 1 nos
Curry leaves- 2 sprigs
Green chilli – 3 nos
Ginger – 5 to 6 nos
Garlic – 1 nos
Grated coconut – ½ cup
Turmericpowder – ½ tsp
Red chilli powder – 2 tsp
Coriander seed – 1 tsp
Fennel seed -1 tsp
Pepper seed – 1 tsp
Mustard seed – 1 tsp
Salt – 1 tsp
Oil – 4 or 5 tbsp
Method
Wash and clean the fish ,then slit the fish on both of the sides ,keep aside.
Then crush fennel seed, pepper seed, ginger and garlic and keep aside.
Pan sardine fish,salt ,turmeric powder,red chilli powder,coriander powder ,half of the crush masala
and oil mix and cover them well.
Marinated for half an hour.
Take a bowl add grated coconut then mix and squeezewith neat hands ,drain thick coconut milk
and set aside.
Heat oil in frying pan ,add marinated fish and fry them well.
Drain excess oiland keep aplate.
Heat oil in a pan add chopped onion and salt ,saute for fewminutes.
Add another half of crush masala ,curry leaves,turmeric powder,red chilli powder and green chilli
,saute them well.
Add chopped tomatoes and cook till they become soften .
Remove from fire and keep aside.
Take a banana leaf and show it in flame for few seconds to soften.
Pour some oil and spread them well,
Add sauted masala, and fried fish .
Then pour the thick coconut milk into the top of the masala .
Then wrap the banana leaves and fold them.tie it well using a banana string .
Heat oil in a pan, and place the wrapped fish in the pan and cook for some minutes.
Then flip the fish and cook again for 5 to6 minutes.
Remove from the flame and serve it hot.