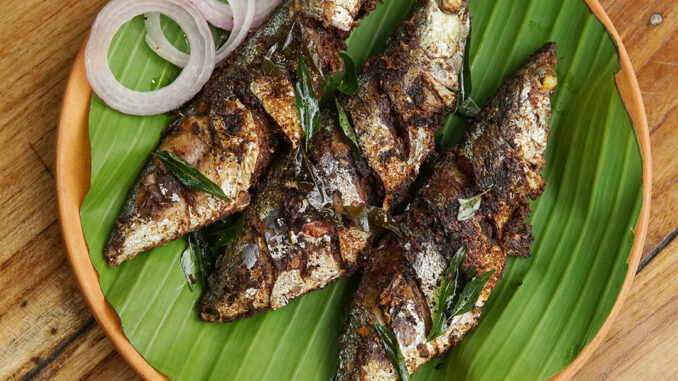 Ingredients
Fish fry -3 nos
Dry red chillies – 5 nos
Garlic – 5 or 6 nos
Ginger – 1 nos
Coriander seed – 1 or 2 tsp
Black pepper – 2 or 3 tsp
Turmeric powder – ½ tsp
Coconut oil – 3 or 4 tbsp
Salt – 1 or 2 tsp
Method
Firstly ,cut and wash the fishes and make deep slits on both sides.
Then we have grind salt ,turmeric powder,dry red chillies,coriander seed, black pepper seed,garlic
and ginger into fine paste masala ,keep aside.
Then take a bowl add cleaned fishes and rub the spice masala paste all over the fishes.
Then marinated for 20 to 25 minutes.
Heat oil in a pan add marinated fishes in oil and fry till they become golden on both sides.
Drain excess oil and set a side.
Serve and enjoy the ayala fry with meals.