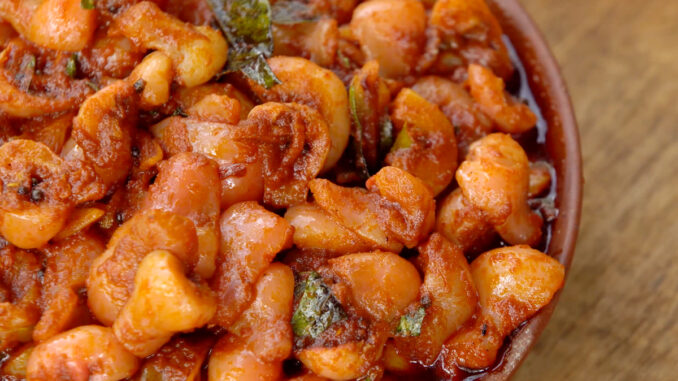 Ingredients
Rose apple-1 kg
Ginger-1 big
Garlic-13 to 14
Green chilli-4
Curry leaves – 3 sprigs
Vinegar-1 tbsp
Asafoetida-small piece
Kashmiri red chilli powder- 3 tbsp
Turmeric ½ tbsp.
Fenugreek powder-1 tbsp
Mustard seed- 1 tsp
Oil-2 tbsp
Salt to taste
Method
First we wash the rose apples thoroughly. Cut into half, de-seed and set aside.
Heat oil in a heavy bottom pan ,add rose apple and Saute lightly until the colour starts to
lighten, keep a side.
Again we heat oil in a pan add mustard seed , Once the seeds pop,
Then we add ginger, garlic, green chilli and small piece of asafoetida ,mix and saute for
some minutes.
Then we add curry powders like Kashmiri red chilli, turmeric powder, fenugreek powder mix
well and saute for some minutes.
Now we add curry leaves and sauted rose apple mix well
Then we add vinegar and stir well. ones the vinegar gets boiled,
Add some salt and mix well and turn off the flame
Serve the kerala style rose apple pickle with rice.