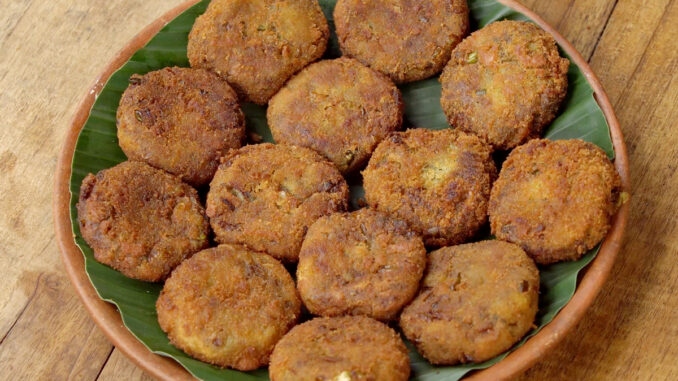 Ingredients
Potato -4 nos
Bread -7 or 8
Green chilli-2 nos
Ginger -1 medium
Onion-2 nos(cut,small pieces)
green beans -10 to 12(cut,small pieces)
carrot-1 (cut,small pieces)
garam masala-1 tbsp
pepper powder-2 tbsp
turmeric powder-1/2 tbsp
corn flour-1 tbsp
oil- for frying
salt to taste
Method
Heat water in a heavy bottom pan add potatoes in it,cook well
Then we peel off and mashed the potato,and keep a side
Then we take the bread and cut its side,and grind well ,keep a side.
Heat oil in a pan add green chilli ,ginger and onion saute for some times.
Then we add cooked green piece, carrot and salt mix and saute well.
Again we add curry powders like garam masala ,pepper powder and turmeric powder, mix well .
Then we add mashed potato and sprinkle some pepper powder and mix well
Turn off the flame ,and keep a side.
Take a small bowl and put some cornflour in it.pour the required amount of water into the mix and
we will make a loose paste , keep a side.
Then we take small amount of cutlet mix and put it in the shape of round or any other shape.
After we dip the cutlet into the corn flour mix.
Then we dip the cutlet into the bread crumbs.
Heat oil in a pan then we fry the cutlet ,those who are light brown on both sides, take it out from oil.
Drain the excess oil and serve hot with tea.