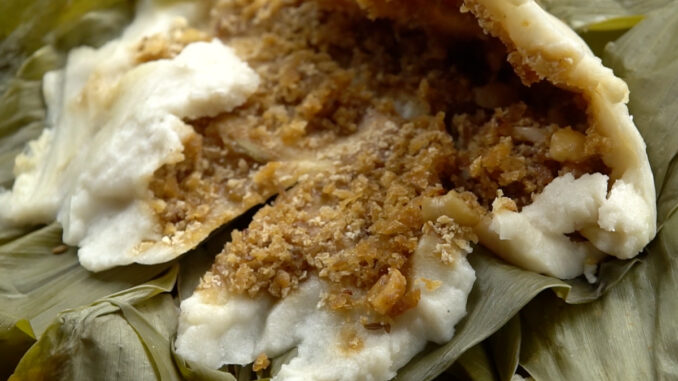 Ingredients
Rice flour-1 cup
Jaggery -1 cup
Cardamom-3 or 4 nos
Cumin seed-1 ttsp
Cashew nut -250 gm
Salt-to taste
Water –to use
Method
 First we crush cardamom and cumine seed into fine powder
 Heat a pan add jaggery and water once it is melted completely strain it to
remove the impurities
 Then heat the strained jaggery over medium low heat add grated
coconut,cumin seed,cardamom powder and cashew nut mix well ,and keep a
side
 Pour rice flour on to a bowl. Add a pinch of salt. Mix well. Now start adding
water little by little. Keep mixing the flour and water till you get chapathi dough
consistency. Knead well and keep aside.
 Take a turmeric leaf spread oil on the top , Spread rice dough on turmeric leaf
. Thinner the layer of spread, better will be the taste. Fill in with jaggery and
coconut mix. Fold one half of the leaf and keep a side
 Place in a steamer and steam for 15 minutes or until it is cooked completely.
 Finally turn of the flame and serve the kerala traditional turmeric leaf ada
 Enjoy the taste..