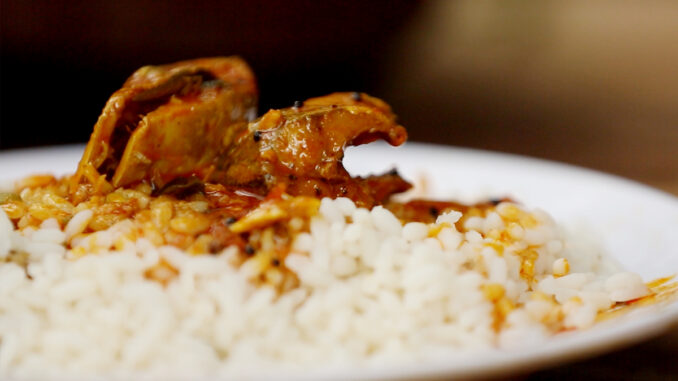 Ingredients
Mackerel – 1 kg.
Coconut – 2 nos.
Green chilies – 6 nos.
Garlic – 2 nos.
Tomato – 1 no.
Fenugreek seed – 1/2 teaspoon.
Fenugreek powder – 1/2 Teaspoon.
Pot tamarind – 6 nos.
Oil.
Chili powder – 4 Tablespoons.
Turmeric powder – 1/2 teaspoon.
Mustard.
Salt.
Curry leaves.
Method
Clean and cut the fish.
Extract thick and thin coconut milk.
Slice ginger, garlic, green chilies, and tomato to small pieces.
Heat oil in a clay pot, splutter mustard, fenugreek seed. Saute in sliced garlic, ginger, curry leaves, and green chilies.
Saute in chili powder, turmeric powder, fenugreek powder. When the rawness is gone saute in the tomato. Pour think coconut milk and season with salt. Add the pot tamarind and bring to a boil. Once in it come to a boil add the fish. Rotate the pot to avoid the fish from breaking. Cover the pot and cook.
When the curry comes to a boil, add thick coconut milk. When curry comes to a boil remove the flame.
Tasty mackerel coconut curry is ready.