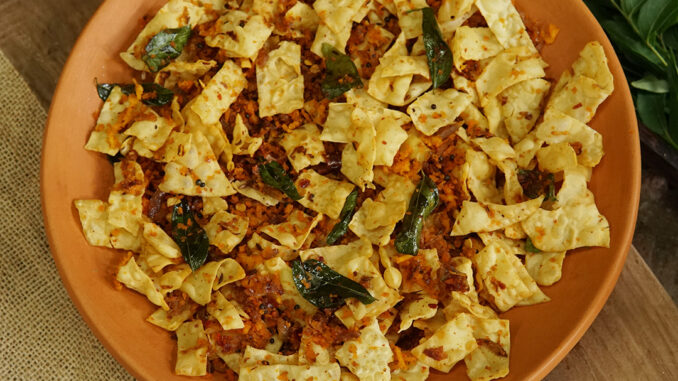 Ingredients
Pappadam – 5 nos
Dry red chillies -4 nos
Shallots – 8 to 9 nos
Curry leaves – 3 sprigs
Grated coconut – ½ cup
Red chilli powder -1/4 tsp
Turmeric powder -1/2 tsp
Mustard seed – 1 tsp
Cumin seed – 1 tsp
Salt – 1 or 2 tsp
Oil – 2 or 3 tbsp
Method
First we have to crush dry red chilli and set aside.
Then cut the pappads into small pieces.
Then fry the pappads into hot oil ,drain and set aside.
Heat oil in a pan add splutter mustard seed and cumin seed .
Add shallots and saute well.
Then add crushed dry red chillies and curry leaves saute well.
Add powders like turmeric powder ,red chilli powder and salt mix it well
Add grated coconut saute well until the water gets drying.
Finally add fried pappads and mix well.
Remove from fire and set a side.
Serve and enjoy the pappadam thoran with meals.