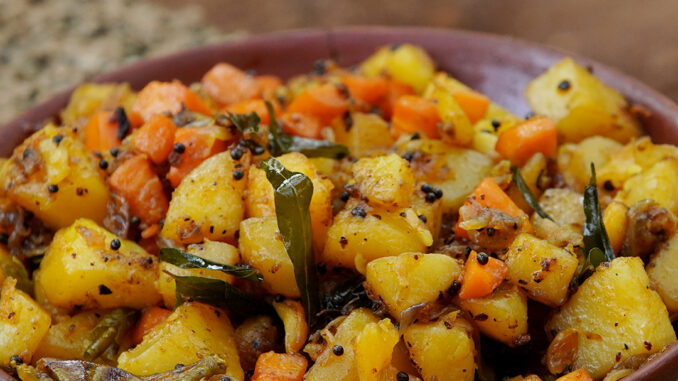 Ingredients
Potato – 2 nos
Carrot – 1 nos
Onion – 2 nos
Garlic – 5 to 6 nos
Green chilli – 2 nos
Curry leaves – 3 sprigs
Red chilli powder – 1 tsp
Pepper powder – 1 1/2 tsp
Turmeric powder – ½ tsp
Oil – 2 or 3 tbsp
Salt – 1 or 2 tsp
Method
First we have to peel ,wash and cut the potatoes and carrot into small cubes,set aside.
Heat oil in a pan add mustard seed ,let them cracked .
Add chopped onion and garlic saute them for 3 to 4 minutes.
Then add curry leaves and green chilli saute them well.
Add potatoes and carrot mix them well .
Then add sufficient amount of salt and mix well.
Add red chilli powder,pepper powder and turmeric powder ,combine them well .
Cover and cook till they become fry .
Remove from fire and set aside.
Serve and enjoy the potato and carrot fry with meals.