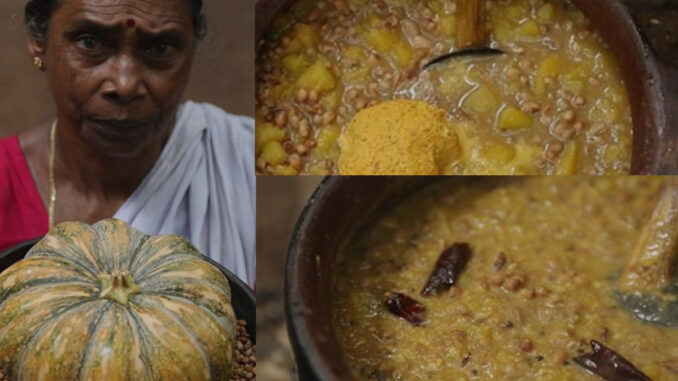 Ingredients
*Pumpkin – 1 big piece.
*Red beans – 1 cup.
*Grated coconut – 1/2 cup.
*Dried chilies – 4 nos.
*Garlic – 3-4 cloves.
*Cumin – 1 tablespoon.
*Turmeric powder – 1/4 tablespoon.
*Shallot – 4 nos thinly sliced.
*Coconut oil – 5 tablespoons.
*Curry leaves – 2 stems.
*Water – 1 cup.
*Salt to taste.
Method
1) Peel the pumpkin, clean, and cut it into cubes.
2) Cook cleaned red beans in 1 cup of salt seasoned water.
3)Once the red beans start to soften add the pumpkin and cook.
4)Make a paste blending grated coconut, 3 dried chilies, garlic, cumin, turmeric powder.
5)Once the pumpkin is cooked, mash a little using the back of a spoon. Adjust salt, and add the prepared paste and mix well and keep it off the flame.
6)For tempering heat oil in a pan and splutter mustard seed.
7)Fry thinly sliced shallots, dried chilies, and grated coconut. Once the coconut color change golden brown, add curry leaves and mix the fried mixture to the pumpkin erissery and mix well. cover and cook on low flame so the flavors get infused.
Pumpkin erissery is ready !