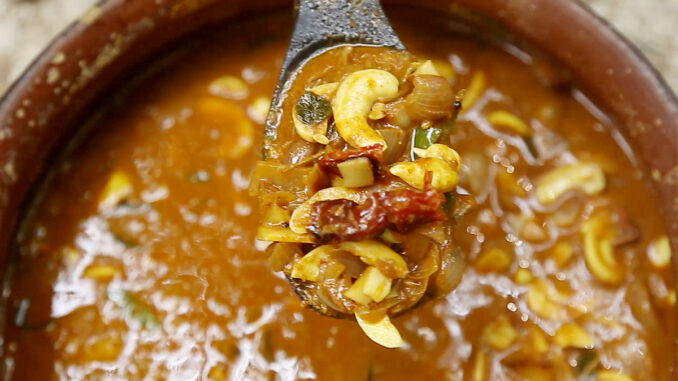 Ingredients
Cashew – 1 kg.
Coconut – 1 no.
Onion – 1 no.
Shallots – 100 gms.
Coriander – 1 teaspoon.
Green chili – 3 nos.
Ginger – 1 pc.
Garlic – 1 no.
Dried chilies – 6 nos.
Turmeric powder – 1/4 teaspoon.
Salt – as required.
Fennel seed.
Cinnamon.
Star anise.
Oil.
Mustard.
Curry leaves.
Method
Split the cashews in two.
Roast grated coconut, dried chilis(6), coriander, shallots. Grind them on a stone grinder.
Grind cinnamon, star anise, fennel seed on a stone grinder.
Heat oil in a pan, splutter mustard. Saute in finely chopped shallots(6), dried chilies(2). Add sliced coconut and fry it crisp. Saute in onion, shallots, green chilies, ginger, garlic, and curry leaves.
To the cooked mixture, add the cashews. Add turmeric powder along with the two prepared pastes. Pour water and season with salt. When the curry boils remove from the flame.
Tasty cashew curry is ready.