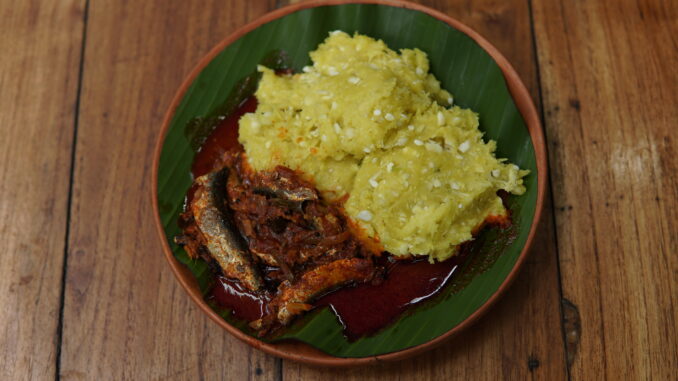 Ingredients
Sardine fish – 1 kg
Ginger – 1 nos
Garlic -7 or 8 nos
Shallots – 9 to 10 nos
Green chilli – 2 nos
Malabar tamarind – 4 or 5 nos
Curry leaves – 3 nos
Red chilli powder – 1 ½ tsp
Fenugreek powder – 1 tsp
Fenugreek seed – 1 tsp
Mustard seed – 1 tsp
Salt – 1 or 2 tsp
Oil – 4 or 5 tbsp
Method
Firstly cut and clean the fish ,then wash and drain.
Again we wash the fish with tamarind water ,drain and keep a side.
Crush the ginger and garlic into fine paste ,set aside.
Heat oil in a pan add mustard and fenugreek seed ,lets crackled.
Add chopped shallots,green chilli,crush ginger garlic paste and curry leaves ,saute for 4 to 5 minutes.
Then add some curry powders like red chilli powder,turmeric powder and fenugreek powder saute
them well.
Add water , malabar tamarind and salt,stir them well.
Cover and cook 6 to 7 minutes.
Then add fresh sardine fish and pinch of salt for taste ,cover and cook till the fish become well
cooked.
Remove from fire and keep aside.
Serve the tasty sardine fish curry with tapioca.
Tapioca recipe
Tapioca – 1 kg
Garlic – 3 or 4 nos
Green chilli – 2 nos
Grated coconut – 1 cup
Turmeric powder – 1 tsp
Cumin seed – 1 tsp
Salt – 1 or 2 tsp
Method
Firstly we have to peel and cut into medium pieces,then rinse it very well.
Drain and keep aside.
Heat water in a pot add tapioca pieces and salt ,cover and cook them well.
Then grind garlic ,green chilli,cumin seed , turmeric powder and grated coconut ,set aside.
Now we have to drain excess water of cooked tapioca.
Add grinded paste of coconut mix and cook for 4 to 5 minutes.
Then slightly mash the tapioca using a wooden spoon.
Remove from the heat and keep aside .
Serve warm along with sardine fish curry.