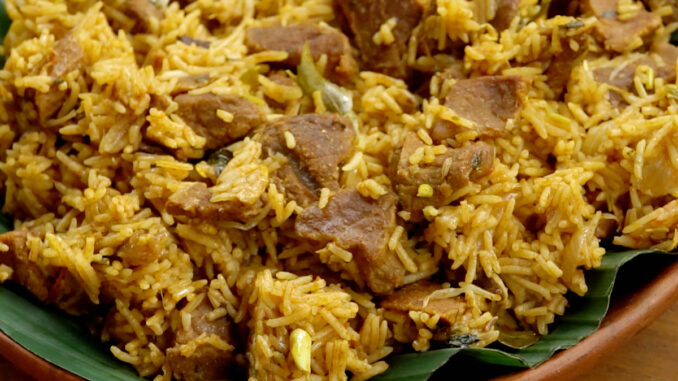 Ingredients
Biriyani rice – 4 gls
Beef-1kg
onions (sliced)-3 nos
tomatoes (sliced)-2 nos
ginger -1 big
garlic -12 to 13 nos
green chilli-3 or 4 nos
turmeric powder-1 tsp
coriander powder-2tbsp
garam masala-1 tbsp
curry leaves-2 sprig
coriander leave – small amount
Salt to taste
Cloves-3 or 4
Cinnamon-1 medium
bay leaves-2 nos
oil- small amount
fennal seed -2 tspghee-2 tbsp
cumin seed-1 tsp
Method
 First we clean and cut the meat in medium size pieces
 Crush ginger and garlic into paste
 Again we grind fennel seed and cinnamon into smooth paste
 Marinate the beef with red chilli powder coriander powder ,turmeric ,onion
,green chilli, ginger, garlic tomato ,curry leaves and fennel grinded paste mix
well
 Add 2 tbsp of curd and half lemon mix well
 Then we add water ,cover and cook for some minutes
 Transfer cooked meat along with gravy to this pot
 Heat ghee in a big pan add cumin seed, garam masala like bay leafs, cloves
,cinnamon etc
Then we add onion and ginger garlic paste mix well and saute for some
minutes .
 Again we add cooked meat ,coriander leaf and salt mix well
 Now we add gravy to this pot and mix well.
 Add washed rice into this pan and add some water, mix well.
 Cover and cook for about 20 minutes on low flame till all the water runs dry
giving a stir occasionally.
 Switch off flame and enjoy the simple erachi choru recipe.