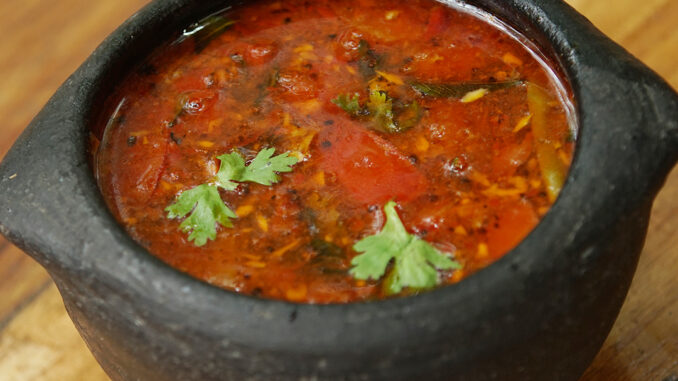 Ingredients
Tomatoes – 2 nos
Curry leaves – 2 sprigs
Ginger – 1 medium
Garlic – 6 to 7 nos
Tamarind water – ½ cup
Coriander leaves – small amound
Dry red chilli – 4 or 5 nos
Coriander seed – 1 tbsp
Pepper seed – 2 tbsp
Cumin seed powder – 1 tsp
Fenugrrek seed – 1 tsp
Mustard seed – 1 tsp
Asafoetida – 1 tsp
Oil – 1 tbsp
Salt – to taste
Method
First we have to crush ginger and garlic set a side
Then we have to crush dry red chilli and keep a side
Again we have to crush coriander seed and pepper seed separately and set a side.
Heat oil in a pan add mustard seed and fenugeek seed , When the seeds splutter.
Add asafoetida and crushed ginger and garlic saute well.
Then we have to add crushed dry red chilli ,coriander seed ,pepper seed and green chilli saute well
Add curry leaves and chopped tomatoes saute till the tomatoes become soften .
Now we have to add cumin seed powder , squeezed tamarind water and salt stir it well
Then boil over medium flame,when it starts to boil add some chopped coriander leaves and stir it
well.
Remove from fire and set a side.
Serve and enjoy the south indian recipe ..