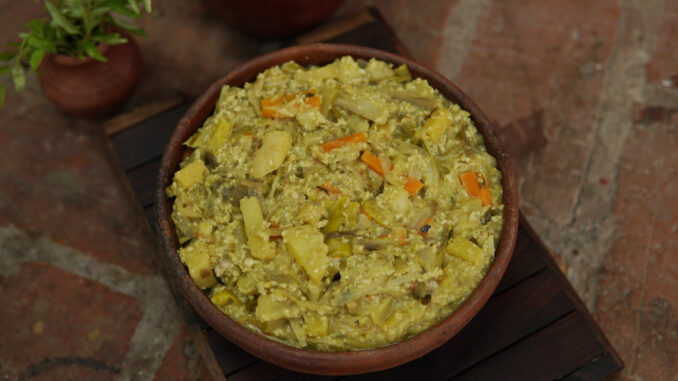 Ingredients
Yam – ½ kg
Shallots- 3nos
Beans – 5 or6 nos
Pumpkin – small pieces
Raw tomatoes – 2 nos
Tomatoes – 2 nos
Carrot – 2 nos
Brinjal – 2 nos
Garlic – 4 or5 nos
Curry leaves- 3 sprigs
Green chilli –5 or 6 nos
Grated coconut – 1 cup
Cumin seed – 1 tsp
Turmeric powder – ½ tsp
Salt – 1 or 2 tsp
Coconut oil – 2 or3 tbsp
Method
Firstly we have to peel ,cut and wash the vegetables like Yam , pumpkin, raw tomatoes ,
brinjal , beans, carrot , onion ,cucumber, curry leaves and tomatoes .
Then takea heavy bottom pan add chopped vegetables ,green chilli,turmeric powder,salt and
pour some oil .
Then pour some water and mix them well.
Cover and cook till the vegetables become well cooked .
Grind grated coconut ,shallots, garlic, green chilli, cumin seed and curry leaves into a
coarsely paste with little water.
Then pour the ground coconut paste into the cooking vegetable pan mix them well.
Cover the pot with a lid and cook for 5 mins.
Then finally pour some fresh coconut oil and salt , mix them well.
Remove from fire and keep aside.
Serve the tasty kerala aviyal with meals.