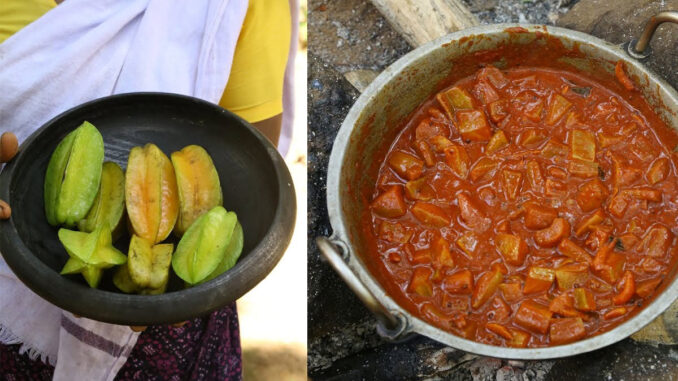 *Starfruit – 1/4 kg.
*Garlic – 16 cloves.
*Ginger – 1 big piece.
*Curry leaves – 2 stems.
*Chili powder – 1 tablespoon.
*Fenugreek powder – 1 teaspoon.
*Hing – 2 pieces.
*Vinegar – 1 and 1/2 teaspoon.
*Salt to taste.
*Water.
Method
1 Clean and chop garlic, ginger.
2 Clean and chop starfruit to small pieces.
3 Take a heavy bottom pan, heat coconut oil, and splutter mustard.
4 Saute in chopped garlic, ginger, and hing. When the raw smell subsides saute in curry leaves.
5 Saute chili powder, fenugreek powder. When everything is sauteed pour in water and adjust salt.
6 Add the chopped starfruit and cook.
7 When star fruit is cooked add vinegar and remove from the flame.