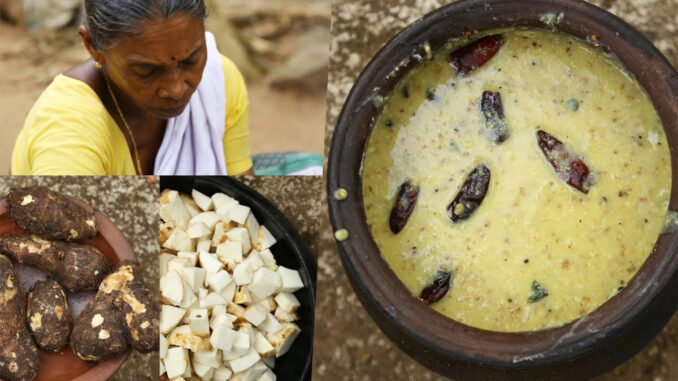 Ingredients
*Taro root – 1/2 kg peeled and cut to small pieces.
*Grated coconut – 1 cup.
*Cumin – 1 teaspoon.
*Shallots – 10 nos.
*Dried chilies – 8 nos.
*Turmeric powder – 1/4 teaspoon.
*Curry leaves – 3 stem.
*Salt as required.
For tempering
*Coconut oil – 1 teaspoon.
*Shallots – 4 nos.
*Dried chilies – 2 nos.
*Coconut – 1/4 cup.
Method
1 Clean and cut taro roots.
2 Make a paste of 1/4 cup grated coconut, cumin, 5 shallots, 3/4 teaspoon turmeric powder, curry leaves,  and 4 dried chilies.
3 Make a paste of 1/2 cup grated coconut, 4 dried chilies, 1 teaspoon cumin, 4 shallots.
4 Keep the taro root for cooking. Once cooked remove from the flame. Using a wooden spoon slightly mash the taro roots. Mix in both the prepared paste. Season with salt and combine all well.
5 Keep it back on the flame and bring it back to a small boil.
6 For tempering heat a pan with oil, splutter mustard. Saute in dried chilies, shallots, and grated coconut. When the coconut turns brown mix it into the taro root curry.