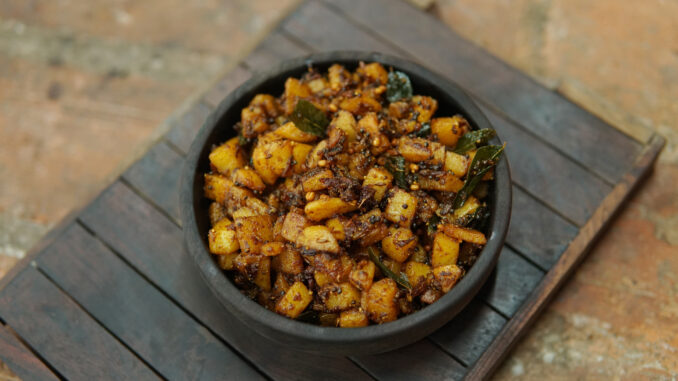 Ingredients
Potato – 4 nos
Shallots – 11 to 12 nos
Curry leaves – 3sprigs
Red chilli powder – 1 tbsp
Coriander powder – ½ tbsp.
Garam masala – ½ tbsp
Cumin seed – 1 tsp
Mustard seed – 1 tsp
Salt -1 tsp
Oil- 2 or3tsp
Method
Firstly, we have to peel and cut it into small cubes.
Then wash and drain ,keep aside.
Heat oil in a pan add mustard seed and cumin seed ,let them crackled.
Add chopped shallots ,saute them well till they become light golden brown.
Add curry leaves saute them well.
Then add chopped potatoes and combine them well and cook for some time.
Add red chilli powder ,coriander powder and garam masala ,saute and cook them well.
Remove from fire and set aside.
Serve and enjoy the tasty kerala style potato fry with meals.