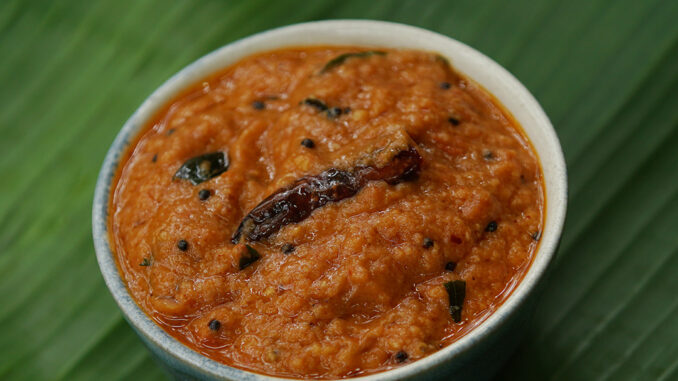 Ingredients
Tomatoes – 3 nos
Urud dal – 1 tsp
Garlic – 5 or 6 nos
Ginger – 1 medium
Dry red chili – 6nos
Onion – 2 nos
Curry leaves – 3 sprigs
Tamarind – small ball size
Mustard seed – 1 tsp
Salt – 1 tsp
Oil – 2 tbsp
Method
Heat oil in a pan add urud dal,garlic and dry red chilli saute well.
Add chopped onion and ginger saute it well.
Then we have to add chopped tomatoes ,saute well till the tomatoes become soften.
Then remove from fire and set aside.
Then firstly we have to grind tamarind,roasted dry red chilli and salt in to fine paste .
Then we add roasted other ingredients like onion tomatoes etc.. into smooth paste .
Then transfer into a bowl ,again add some waterand salt mix it well and set aside.
Heat oil in a pan add mustard seed ,lets crackled.
Add dry red chili and curry leaves and saute well,pour it into the grinded paste bowl and mix it well.
Serve and enjoy the simple and easy chutney with idli and dosa..