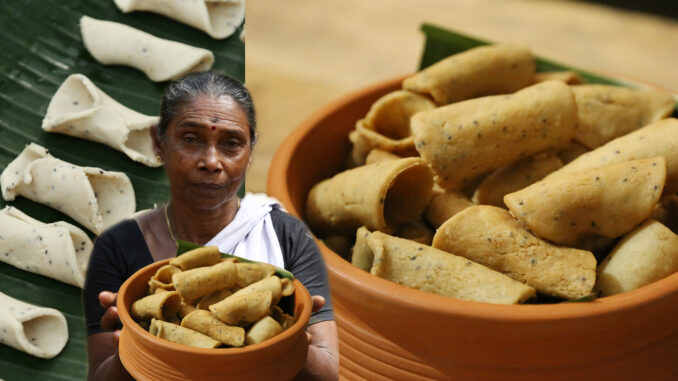 Ingredients
Rice flour – 1 kg (fried)
Coconut – 1 (Grated)
Shallots – 15 (cut into 4 pieces)
Garlic – 10
Cumin seed – 1 tsp
Black sesame seeds – 4 tsp
Egg – 1
Coconut oil – 1 kg
Salt for taste
Method
  Firstly, make a paste using grated coconut, shallots, garlic, cumin seed and salt
 Add water to this paste and boil it.
 Bit by bit add this mixture to the rice flour and mix it well. Use coconut oil while mixing it.
 To this mixture add the black sesame seeds and 1 egg, then blend all the ingredients
together and roll it to form a big ball.
 Then apply oil on the pressing board, using hands make small balls from the bog ball and
press it on the pressing board. With the help of a glass mark the round shapes.
 Now with the help of index finger roll these small round sheet to get the shape of
kuzhalappam.
 Repeat this process and place all the rolled ones on a banana leaf.
 Now in a pan heat the oil and add the rolls one by one. Fry it until it is crispy.
 Kuzhalappam is now ready to be served along with coffee or tea.