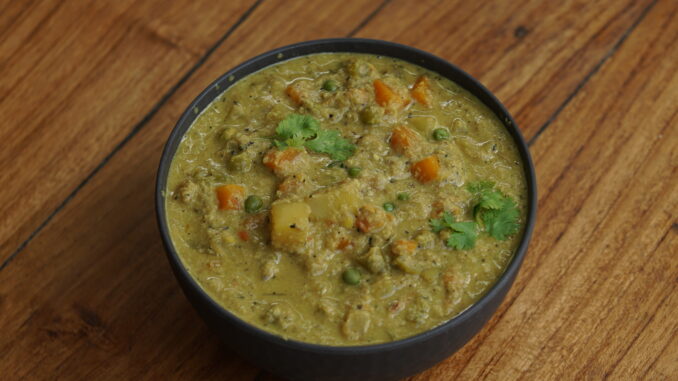 Ingredients
Potato -2 nos
Beans -5 or 6 nos
Carrot -2 nos
Coriander leaves -one hand full
Green peas-5 tbsp
Onion -2 nos
Green chilli -3 nos
Ginger -1 nos
Garlic -5 or 6 nos
Grated coconut – 1 cup
Cashew nut-8 or 9 nos
Turmeric powder-1 tsp
Cinnamon-1 nos
Cardamom-3nos
Cloves-2 to 3 nos
Black pepper -1 tsp
Fennel seed -1tsp
Oil -2 or 3 tbsp
Salt -1 or 2 tsp
Method
Firstly we have to peel and cut all vegetables like potato,carrot and beans set aside.
Heat oil in a pan add cinnamon, cardamom,cloves and fennel seed saute them well
Add chopped onion, green chilli, black pepper, ginger, garlic and cashew nut saute them well
Then add grated coconut and turmeric powder saute and roast them well ,set aside
Heat water in a pan add cleaned green peas.
Then add chopped vegetables like potato carrot and beans, saute them well.
Then sprinkle some salt and turmeric powder mix it well and cook till they vegetable and green peas
become soften.
Now we have grind roasted coconut mix into fine paste and add some water combine them well and set
aside.
Heat a pan add grinded coconut paste and water ,cooked vegetables and green peas and mix them
well,and cooked well.
Finally spring some coriander leaves .
Remove from fire and set aside
Serve and enjoy vegetable kurma with appam.