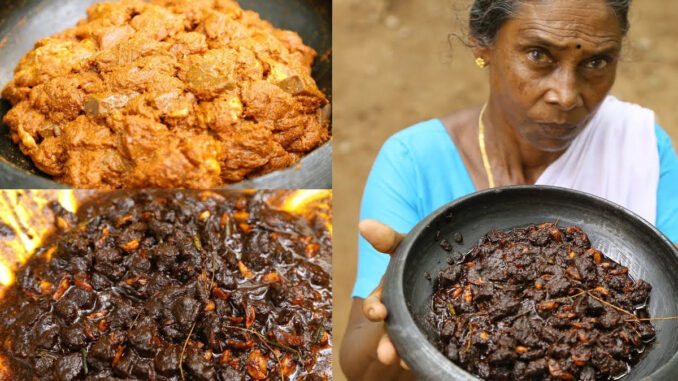 Ingredients
*Beef – 1 kg.
*Garlic – 200 gms.
*Ginger – 200 gms.
*Garam masala – 50 gms.
*Chili powder – 6 tablespoons.
*Turmeric powder – 1/2 tablespoon.
*Pepper powder – 1 tablespoon.
*Mustard – 1 tablespoon.
*Curry leaves – 6 stems.
*Coconut oil – 1 cup.
*Salt – as required.
Method
1 Clean beef and cut it into small bite-size pieces.
2 Peel and clean garlic and ginger.
3 Paste ginger and garlic, if whole spices are taken for garam masala powder them. To the ginger-garlic paste add garam masala, chili powder, turmeric powder, pepper powder, and salt.
4 Rub the prepared paste into the beef.
5 Take a heavy bottom pan, heat oil and deep fry the marinated beef.
6 Take another pan, heat oil and splutter mustard. Saute in curry leaves, ginger, and garlic. Add chili powder and saute till the raw smell subsides.
7 Saute in the fried beef with the above.