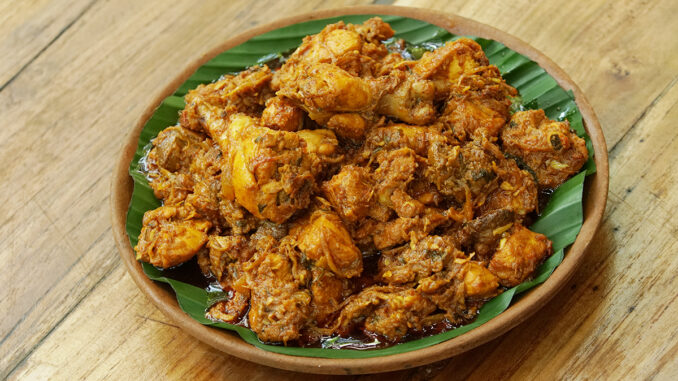 Ingredients
Chicken – 1 kg
Ginger – 1 medium.
Garlic-6 to 7 nos
Onion – 4 nos
Tomatoes – 2 nos
Curd – 2 tbsp
Coriander leaves – small hand full
Mint leaves – small hand full
Red chilly powder-1 ½ tbsp.
Kashmiri red chilli
Garam masala -1 tbsp
Coriander powder-1 ½ tbsp.
Turmeric powder – ½ tbsp.
Salt – to taste
Oil for cooking.
Method
First we have to crush ginger and garlic ,set a side.
Then we have to cut and clean the chicken pieces, set a side
Take a large bowl add cleaned chicken pieces, salt ,crush ginger garlic paste, red chilli
powder, garam masala, coriander powder, turmeric powder, curd and coriander leaves then
mix well and marinate for 1 hrs .
Heat oil in a pan add chopped onion and saute well.
Again we have to add chopped tomato ,saute well till the tomates are become soften.
Add marinated chicken pieces ,mint leaves and coriander leaf ,saute and cover and cook for
10 to 15 minutes.
Finally we have to add kasmiri red chilli and mix well.
Ones the chicken is well cooked remove from fire and set a side.
Serve and enjoy the taste of chicken curry with chapathi and rice.