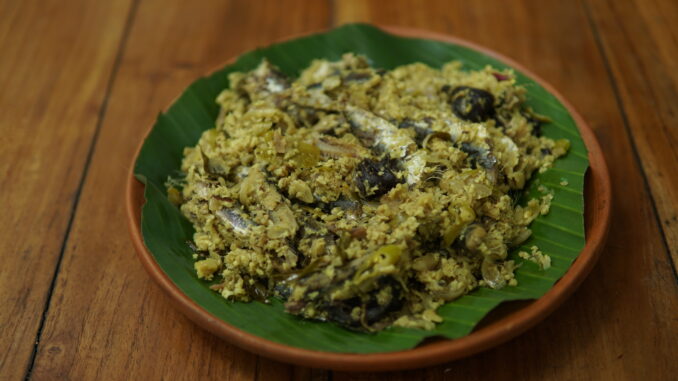 Ingredients
Sardine fish -1kg
Shallots – 9 or10nos
Green chilli – 3 nos
Garlic -6 or 7 nos
Ginger -1nos
Curry leaves – 3 sprigs
Grated coconut – 1 cup
Turmeric powder – 1 tsp
Fenugreek powder – 1 tsp
Malabar tamarind – 3 or 4 pieces
Salt – 1 or2 tsp
Oil- 2 or3 tsp
Method
Firstly cut and washed the sardine fish, drain and set aside
Take a mud pot add sardine fish, Malabar tamarind, curry leaves , salt and some oil mix them well.
Add some turmeric powder and fenugreek powder mix them well.
Then add chopped shallots, green chilli and chopped ginger, combine them well with clean hands and
set aside.
Then we have to crush green chilli, grated coconut ,shallots and garlic ,set aside.
Now we have to add the crushed coconut masala into the sardine fish pan and combine them well.
Then pour some water and stir .
Cook the fish covered and once it boils, cook for 10 – 15 minutes.
Stir in between and add some salt.
Now the water will slowly dry and when it is semi dry, turn off the heat.
Transfer to a serving plate and enjoy with hot rice.