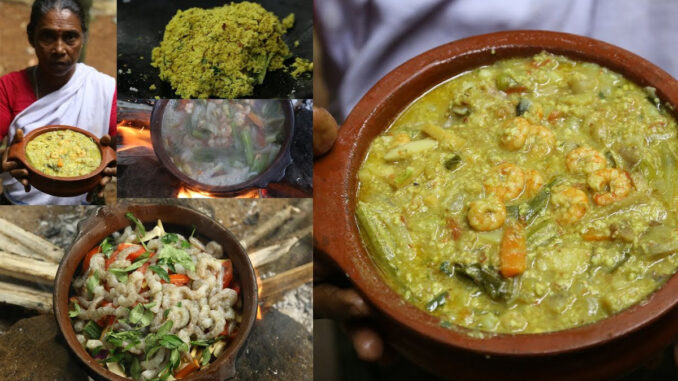 Ingredients
*Snake gourd/ padavalanga – a small piece.
*Cucumber/ vellari – half.
*Green unripe banana – half.
*Carrot – 1nos.
*Green chilies – as required.
*Potato – 1 nos.
*Tomato – 1 nos.
*Onion – 1nos.
*Drumstick – 1nos.
*Yam – small piece.
*Brinjal – 1nos.
*Ladyfinger – 1nos.
*Prawns – 1/2 kg.
*Shallots – 2 nos.
*Garlic – 4cloves.
*Turmeric powder – 1 teaspoon.
*Grated coconut.
*Curry leaves.
*Cumin.
Method
1) Clean all vegetables and cut lengthwise.
2) Clean prawns and wash them with salt and keep aside.
3) Make a paste of grated coconut, shallots, chilies, garlic, turmeric powder, curry leaves, and cumin.
4) In a pot mix all vegetables with prawns, curry leaves, coconut oil, and sufficient water to cook the vegetables and keep it to cook.
5) Once the mixture comes to boil, season with salt.
6) Once the vegetables are cooked add the prepared coconut paste and mix well.
7) Wait for a boil and add little coconut oil and cover the pot. Remove from flame.