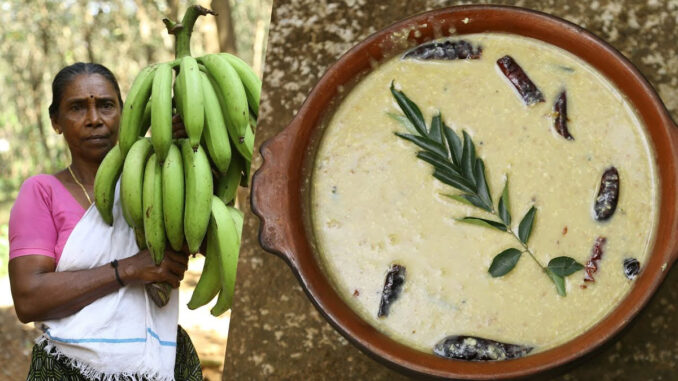 Ingredients
*Raw banana – 10 nos.
*Grated coconut – 1 cup.
*Garlic – 5 cloves.
*Shallots – 5 nos.
*Dried chilies – 3 nos.
*Cumin – 1 teaspoon.
*Coconut oil – 1 tablespoon.
For seasoning.
*Curry leaves – 2 stems.
*Dried chilies – 4 nos.
*Shallots – 4 nos.
*Coconut(grated) – 1/4 cup.
*Coconut oil – 1 tablespoon.
Method
1) Peel the raw banana cut it lengthwise and chop it up.
2) In a pot, cook raw banana in water with a little coconut oil.
3) Prepare a paste of dried chili, grated coconut, and another paste of garlic, shallots, and cumin.
4) Mix both the pastes to make one.
5) When the banana is cooked, remove it from the flame. Once cooled use the back of a spoon to mash it, leave some chunks.
6) To the mashed banana add the prepared paste and mix it well.
7) For seasoning, heat a pan with oil. Splutter mustard, saute in sliced shallots, dried chilies, grated coconut. Once the coconut turns brown add in curry leaves. Add the seasoning to the mash banana erissery.
8) Keep it back on the flame, wait for a boil to turn off.
Tasty raw banana erissery ready..