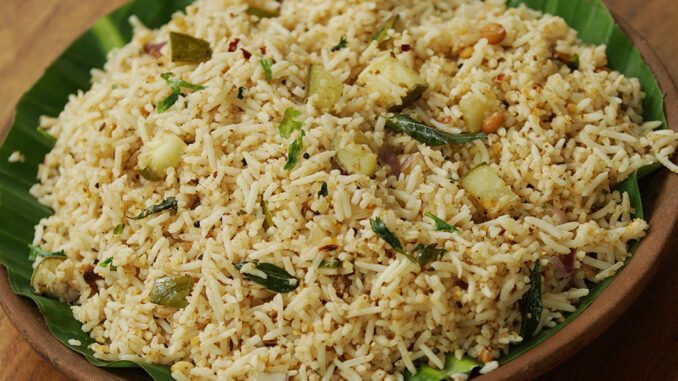 Ingredients
Biriyani rice – 1 kg
Dry red chilli – 3 or 4 nos
grated coconut – ½ cup
Cumin seed – 1 tsp
Peanut – 25o0 grm
Mustard seed -1 tsp
Cumin seed – 1 tsp
Onion – 1 nos
Curry leaves – 2 sprigs
Salt – to taste
Raw mango – ½ piece
Coriander leaves – one hand full.
Salt to taste
Oil – 2 tbs
Method
First ,we have u wash wash and cleaned the biriyani rice ,set a side.
Heat water in a heavy bottom pot add biriyani rice and cook well.
Ones the rice is well cooked drain excess water and set a side.
Heat oil in a pan add dry red chillies ,grated coconut, cumin seed and peanut , roast it well and set
aside.
Then we have to grind the roasted ingredients into fine powder.
Heat oil in a pan add spluttered mustard seeds and cumin seed.
Then we have to add peanut,chopped onion ,curry leaves ,salt and chopped raw mango saute well.
Again we have to add cooked biriyani rice and mix well.
Add crushed coconut mix and sprinkle some coriander leaves mix it well.
Remove from fire and set aside.
Serve and enjoy south indian recipe peanut rice..