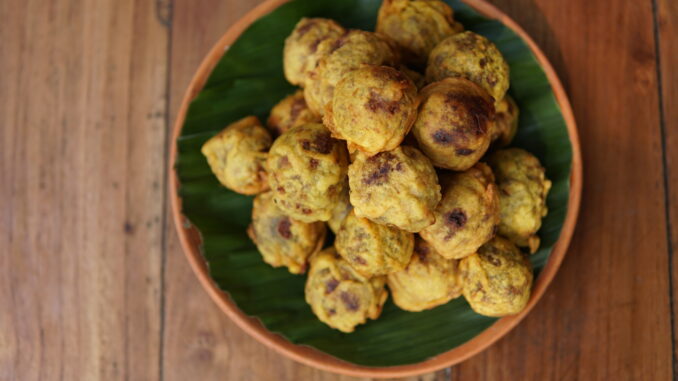 Ingredients
Aval – 2 cup
Banana – 4 nos
Maida – 1 ½ cup
Sugar – 3 or 4 tbsp
Cardamom – 3 or 4 nos
Grated coconut – 1 cup
Grated Jaggary -1 cup
Turmeric powder – 1 pinch
Oil – 1 ltr
Method
Firstly we have to crush the cardamom into powder and set aside.
Then peel the banana and chopped into small slices ,set aside.
Heat a pan add aval and saute them well.
Add grated coconut and chopped banana slices mix them well.
Add grated jaggery and cardamom powder , combine them well.
Remove from fire and set aside.
Ones the mixture is well cooled, to make some lemon size balls with aval and banana mixture and
set aside.
Now we have to prepare the batter for dipping aval mix balls (sukhiyan mix). Take a bowl add maida
, small amount of sugar and pinch of turmeric powder .mix them well to make a thick batter.
Heat oil in a pan ,dip each and every aval mixture balls in to the maida mix batter and deep fry till
they become light golden brown.
Drain and keep a side.
Serve the tasty aval banana mix sukhiyan with hot tea and enjoy the tasty bites.