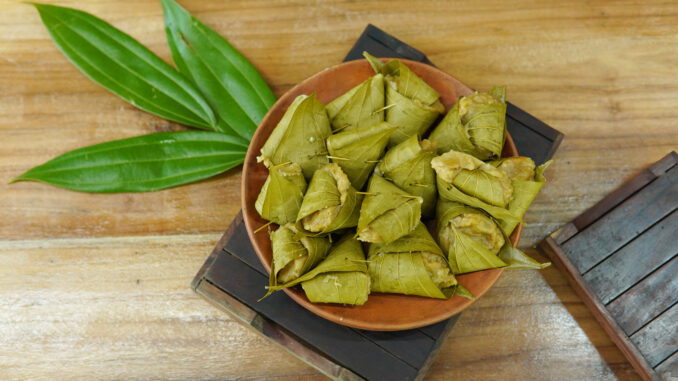 Ingredients
Banana – 3 nos
Rice flour – 2 nos
Jaggery -1 cup
Grated coconut – ½ cup
Cardamom- 3 nos
Salt – 1 tsp
Ghee – 2 or 3 tsp
Bay leaves – 8 or 9nos
Method
Heat a pan ,add jaggery and water boil them well, then drain and keep aside.
Crush cardamom into fine powder set aside.
Peel the bananas and smash with neat hands.
Then add rice flour,grated coconut, cardamom powder,salt and ghee into bowland
combinethem well.
Add drained jaggery water little by little and make a smooth dough . It should not be too
thick or too loose. Add jaggary water if necessary or the dough is too thick.
Then make cones from the bay leaves, pin it up with stem of coconut leaves.
Now put the mixture into the cones, as per the size of the leaf.
Then fold the top with the upper edge .
Heat water in a idli steamer , Place the cones on a steamer and steam for 12 to 14 minutes.
Serve warm and enjoy traditional kerala recipe with tea.